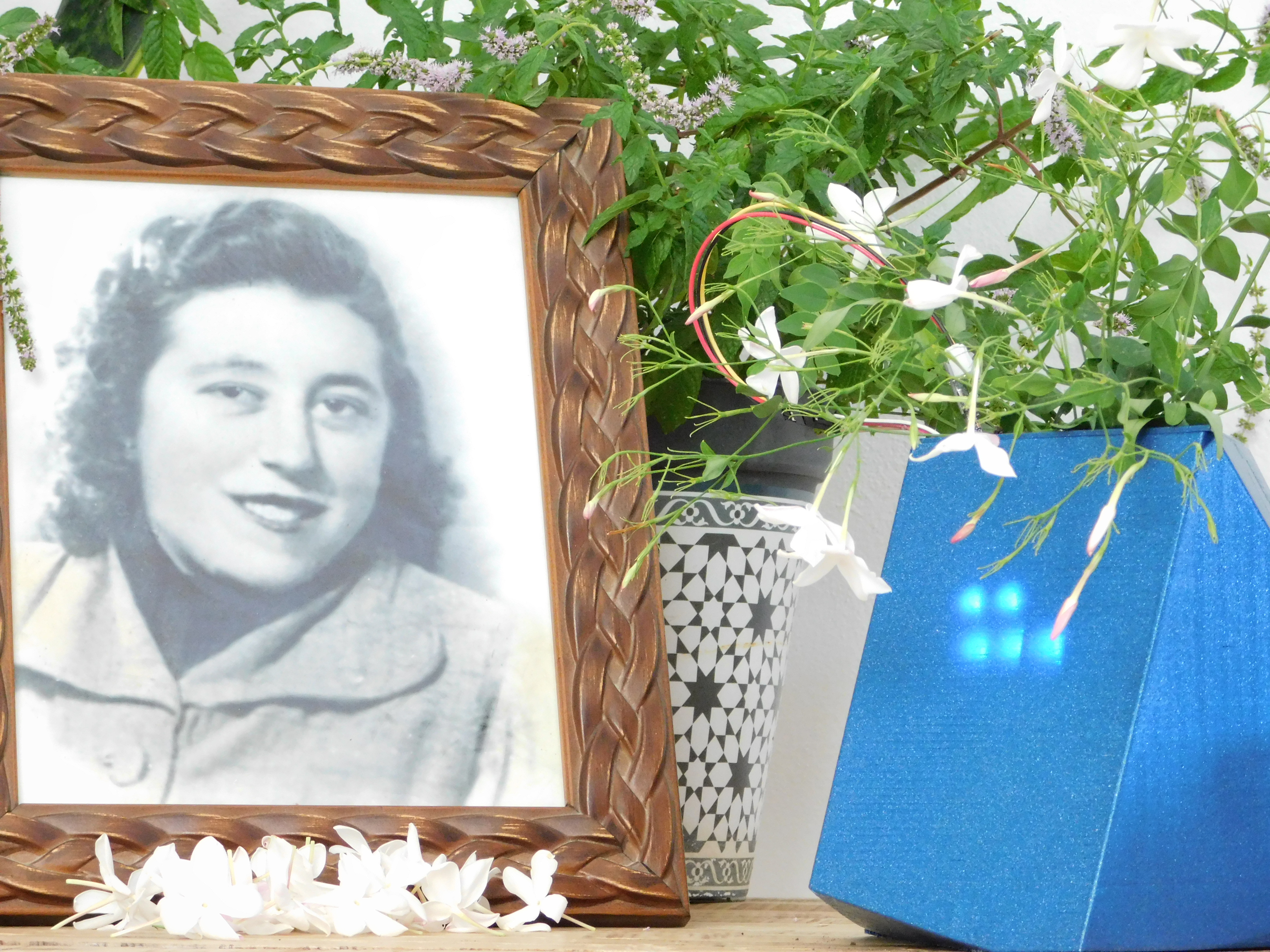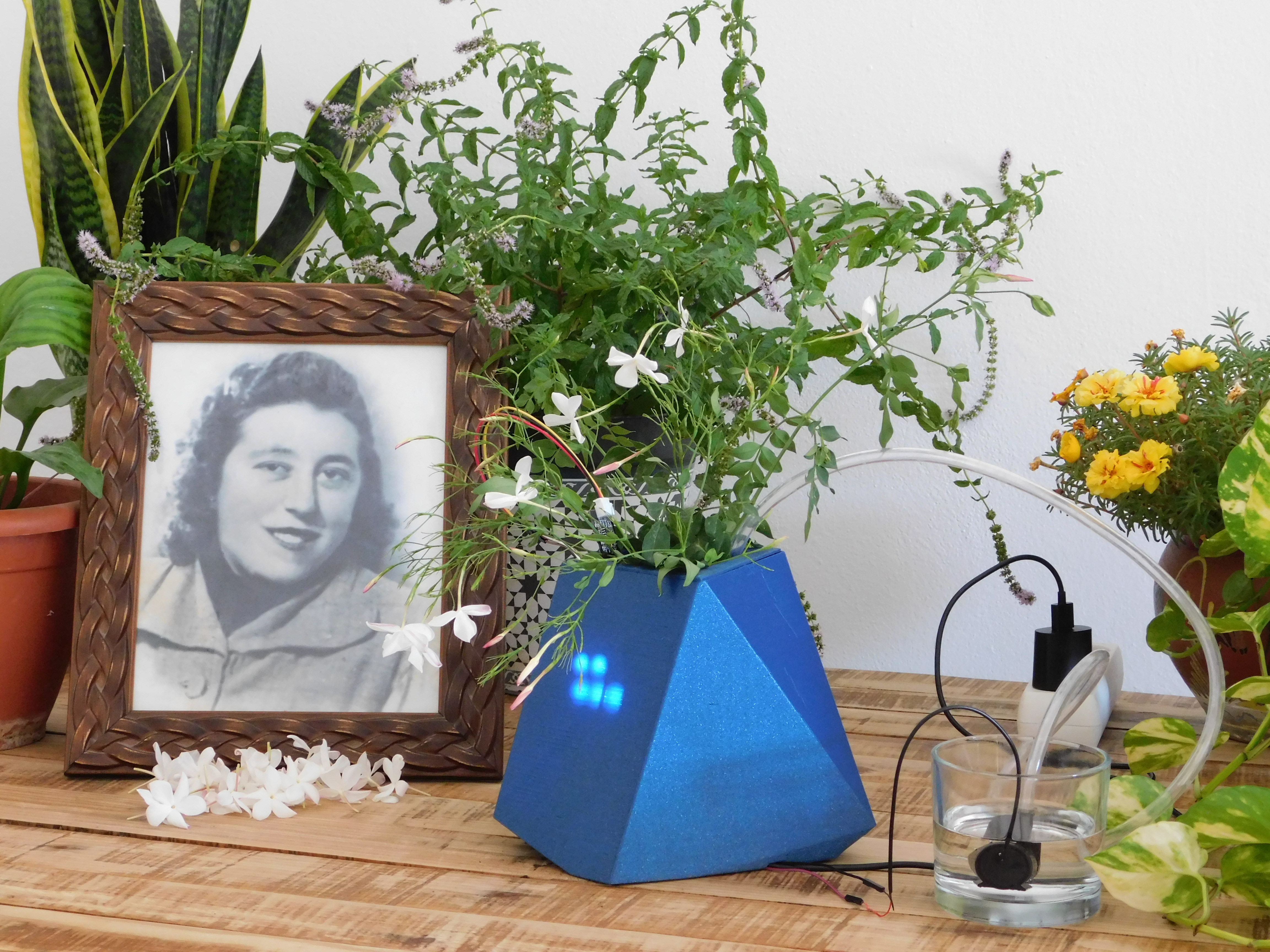 ARA
Interfaz emocional
Wearable y objeto sensible
Comunicación inalámbrica HTTP entre ESP32 y ESP8266
2020
Ara es una interfaz emocional desarrollada para ayudar en la gestión de los cuidados interpersonales en momentos de duelo. La pieza se compone por una urna sensible y una prenda o wearable interactivo y toma como referencia los ritos funerarios en los que los restos de los seres queridos son preservados en urnas junto a semillas o esquejes de árboles. En este caso, con Ara proponemos un sistema en el que la irrigación del agua necesaria para el crecimiento de este nuevo árbol o planta sea posible a través del afecto y del cuidado de los otros.
Esta interacción sucede gracias a la operación del sistema: unos sensores capacitivos conectados de forma inalámbrica a la urna sensible se encuentran bordados en la parte de atrás de la prenda formando los puntos de la constelación Altar. Estos sensores, debido al lugar que ocupan en la prenda, sólo son accesibles a través de la estimulación háptica de una tercera persona, ya sea a través de una caricia o de un abrazo.
La urna sensible contiene dos grupos de leds. Los leds de la fila superior, conectados a un sensor de humedad, marcan los niveles de humedad de nuestra planta y la fila de leds inferior que indica la cantidad de abrazos o veces que se ha interactuado hápticamente con la prenda. El sistema guarda los abrazos en una especie de reserva, poniéndolos a disposición de la planta cada vez que ésta los necesite. Así, cada vez que nuestra planta se encuentra en bajos niveles de humedad, el sistema toma uno de los abrazos, (uno de los leds) y a través de una bomba sumergible, irriga la cantidad de agua necesaria para que nuestra planta recupere los niveles óptimos de humedad. De esta forma, la vida que pudiera surgir
de nuestros seres queridos, es sólo posible a través de la comunicación y del afecto en los otros.
ARA
Emotional Interface
Wearable and sensitive urn
HTTP Wireless Communication between Esp32 and Esp8266
2020
ARA is an emotional interface developed to assist in the management of interpersonal care in grieving situations. Taking funeral rites as a reference in which the ashes of loved ones are preserved in urns next to seeds or tree cuttings, we propose the realization of an interactive system in which the irrigation of water necessary for the growth of this new tree is only possible through the affection and dearness of others.

This interaction is possible thanks to the operation of an emotional interactive system: capacitive sensors located on the back of the garment are wirelessly connected to a sensitive urn in which a water pump is responsible for providing irrigation to these seeds. Due to the positioning of the sensors on the garment, they are only accessible through the haptic stimulation of a third person, either by means of a caress or a hug.

The sensitive urn contains two groups of LEDs. The LEDs in the upper row, connected to a humidity sensor, mark the humidity levels of our plant and the lower row of LEDs indicates the number of hugs or times that the garment has been haptically interacted with. The system stores the hugs in a kind of reserve, making them available to the plant whenever it needs them. Thus, every time our plant is at low humidity levels, the system takes one of the arms (one of the LEDs) and through a submersible pump, irrigates the amount of water necessary for our plant to recover the optimal levels of moisture. In this way, the life that could blossom from the remains of our loved ones is only possible through the communication and affection with others.